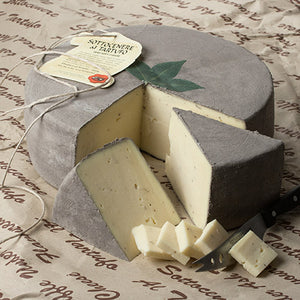 Nonna's Pantry presents Moro cheeses from Veneto in northern Italy.
This original creation from Sergio Moro is no average semisoft cow's milk cheese. This cheese is produced with two different kinds of milking, the rich morning and the evening milk. A judicious amount of black truffles are added into the paste of the cheese, which is then aged in oak ashes blended with nutmeg, cloves, coriander, cinnamon, licorice, anise, fennel and truffle to preserve it, as per Venetian farmers' tradition. Aged for 4-5 months, an elegant truffle cheese emerges from the ashes - smooth, silky and irresistable.
Sergio Moro of Moro Latteria di Moro Sergio in Oderzo in the province of Treviso, Veneto in northern Italy uses whole milk from the local cooperative dairy that his family has been a member of for over 50 years.
Made from pasteurized cow's milk.
Photo depicts whole 12 lb. form of cheese.
We cut and wrap this item by hand.