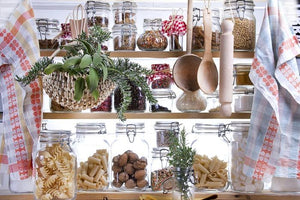 Not interested in cheese or looking to supplement your cheese subscription with hand-picked items from Nonna's Pantry?

As an add-on or a standalone box, to accentuate even the finest meals or to create one on its own.
1 olive oil of the month – Experience some of Italy's finest olive oils from Sicily to Puglia with tasting notes and food / meal uses.

1 pasta or rice of the month – a month to month rotation of fine pastas from Tuscany, Gragnano, and Campofilone, or a delectable rice from the fertile valley bordering the Po River.

1 sauce of the month – the best pesto Genovese DOP, the tastiest tomato sauces from Emilia Romagna, the heartiest Tuscan truffle sauces, and many more.

1 spice or salt of the month – Sea salt from Puglia, Saffron from Abruzzo, Organic Arrabiata spices from Tuscany, and many more

1 chocolate of the month – Amedei, Alda di Provenzano, Giraudi, Vosges, Baratti Milano are some of the fine artisan chocolate makers that we will feature in this box