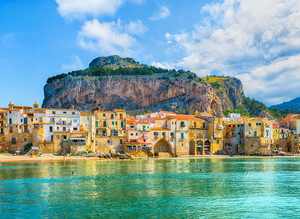 Stock up your pantry and save big with some of our best selling food products.
Buon Appetito!
P.S. If you need anything substituted e.g. you want only gluten free cookies or you just don't like olives / goat cheese / etc, please let us know and we will do our best to accommodate!
Antipasto
2x Bertozzi Torinese Bread Sticks Regular & Whole Wheat 125g - $3.80 - the perfect accompaniment to anything cheese or charcuterie, as a dipping tool for jams and spreads, or just plain as is for a satisfying crunch.
Roi Taggiasche Olives 100g - $10.90 - to snack on it's own, alongside a charcuterie plate, or on pizza, these beautiful monocultivar taggiasche olives from Liguria, Italy are just beautiful. Full of flavour and not over-salted, the Ligurian climate shines through this fruit.
Biscuits
Bertozzi Ciambelline 500g - $4.90 - artisan cookies made with all natural ingredients and flown in once a month, guaranteeing their freshness and crunch. Perfect with a morning coffee, or for the kids as a healthy snack.
Panarello Amaretti (naturally Gluten Free) 200g - $5.90 - Traditional Amaretto from Sassello, made with almonds, apricot seeds, sugar, honey and egg whites. Naturally gluten free.
Charcuterie
Fifth Town Local Artisan Truffle Salami 180g-220g - $19.90
Fifth Town Tuscan Style Campagnolo Salami 180g-220g - $15.90
From our master charcutiers who are trained in the art of Italian charcuterie, we present to you a Tuscan style salami made with local Ontario pork. Delectably cured, this can be featured on a cheese & charcuterie board, used on pizza, or just eaten on its own. 100% Ontario pork.
Cheese
Gennari Parmigiano Reggiano DOP 24 months 200g - $12.90 - known as the "Ferrari of Parmigiano". Can be grated onto pasta / risotto but also used as an excellent table cheese, this is not your "regular" Parmigiano !!!

Fifth Town Premium Goat Cheddar 200g - $12.90 - our best-selling goat cheddar made from 100% fresh & local goat's milk.
Asiago DOP 200g - $11.90 - A popular hit & a great addition to any good cheeseboard.
Carozzi Bitto DOP - $17.90 - From the Lombardian valley, Bitto arises this cheese. The mountain air, fauna and flora contribute to the overall regal nature. Enjoy on its own and savour the delicate, subtle structure.
Argiolas Pecorino Sardo Maturo DOP - $13.90 - Il Maturo: when the taste is sublimated over time. Characterized by a pleasantly spicy flavor and a long seasoning, Pecorino Sardo Maturo Argiolas is protected by the DOP brand, which guarantees the quality and local typicality.
BUFA Mozzarella di Bufala from Campania DOP (prefrozen) - $13.75 - Grass-fed, free-range water buffalo mozzarella or bocconcini. This is mozzarella di bufala the way it was meant to be. Truly a remarkable product, those of you that have tried it know exactly what we are saying here.
Olive Oil
Poddi Black Truffle Oil 250ml - $18.80 - Extra Virgin Olive Oil infused with world famous Umbrian white or black truffles. The selection of the selection of truffle oils, deep, intense and brooding.
Frantoia Lemon EVOO 250ml - $9.90 - Sicilian Extra Virgin Olive Oil infused with famous Sicilian lemons. Drizzled on roasted chicken (WOW) or on fish (ALSO WOW) or even incorporated into desserts like cheesecake (DEFINITELY WOW) for extra flair, this is a gourmet's product.
Tenuta San Demetrio CRU744 250ml - $15.90 - CRU744 is extra virgin olive oil, in limited quantities, obtained by cold pressing of the monocultivar Nocellara etnea olives harvested in 744 parcel in San demetrio's olive grove on the slopes of Etna volcano. To be used as a finishing oil only, from fish, meat and grilled vegetables, the beautiful floral flavour of this oil elevates the dish.
Balsamico
Masserie Balsamic of Modena IGP 6 years aged 500ml - $27.90 - Traditionally made, high quality balsamic vinegar with a slightly unctuous mouthfeel, and balanced sweetness. Names as one of the best value balanced vinegars by The Washington Post!
Giusti White Balsamico 100ml - $8.90 - White Balsamic made in the traditional method, slightly thick mouthfeel and sweetness. A delicious drizzle on grilled vegetables.
Chocolate
Baratti & Milano Crema Alle Nocciole 200g - 12.90 - 51 % Hazelnut Spread from the chocolate geniuses at Baratti & Milano.
1x Vosges Chocolate Bar e.g. Black Salt Caramel, Matcha Green Tea, etc. - $11.90 - haut-chocolat made with premium, carefully sourced ingredients
Spices
Aromatica Aquilana Saffron Sachet - $2.40 - "L'Aquila Saffron": this is the name given for more than 600 years to the spice obtained by harvesting and drying the stigmas of the "Crocus Sativus" flower in the Abruzzo region of L'Aquila and in particular in the Navelli plain, where saffron has found its ideal home. 
TOTAL: $258.05
Your Price: $199.90