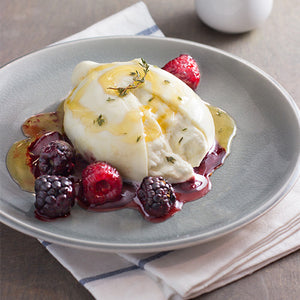 Nonna's Pantry presents our Fresh Cheese Kits where we pair our delicious selection of fresh cheese (your choice of Burrata Pugliese or Mozzarella di Bufala Campania DOP, or both!) with a lovely Sicilian pesto made from pistachios or almonds and olive oil, all estate grown on the Tentuta San Demetrio estate located on the Mt Etna volcano in Sicily. Also included in this gourmet kit is a local Ontario raw honey from Prince Edward County, perfect drizzled on the burrata, or, if you're using these cheeses on a pizza, drizzled on top of that! (we suggest putting the cheese on after baking the tomato sauce and pizza-dough base)
1) Burrata Pugliese 250g OR Mozzarella di Bufala Campania DOP 250g OR Both - $19.90 for one, $39.80 for 2, $59.70 for all 3.
2) Tenuta San Demetrio Almond OR Pistachio Pesto 100g - $11.90
3) Fifth Town Prince Edward County Raw Honey 60ml - $3.90
TOTAL = $35.70 or $55.60 or $75.50
YOUR PRICE = $32.13 or $50.04 or $67.95
10% off already calculated in the listed price, Buon Appetito, we hope you enjoy!